Hello 3B Families,
We can't believe that the first week of school has already flown by!
We have spent the week getting to know the students, set classroom routines, and of course… WE HAVE HAD A LOT OF FUN!
A highlight from Morah Sigal's class is the שאלות (questions). Morah Sigal asks the students questions in Hebrew and they respond in Hebrew! These questions can be about ANYTHING!!! Sometimes, Morah Lianna will practice her Hebrew and answer the שאלות, too!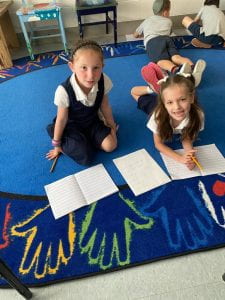 In Art with Morah Andy (Dance, Drama, Visual Art), we learned a dance to the song Tel Aviv! Morah Sigal let us practice our dance one afternoon!
In General Studies, we used a variety of books to help us create our classroom rules (or as Morah Lianna likes to say, our leadership skills). We read Are Pirates Polite? We Don't Eat Our Classmates, and I Promise.
After reading the book I Promise, we also each took the time to make one promise to ourselves for the school year!
You can see all of the promises we made when you visit our classroom on Back to School Night!
(note: homework will begin after Back to School Night)
---
Reminder; if you have any questions, comments, or concerns, please never hesitate to reach out to the Grade 3 team!
Shabbat Shalom!