Hello Grade 3 Parents!
We are excited to share some information about the Scholastic Book Club! What is this Scholastic Book Club? Glad you asked! The book club is an EASY way to order books for your child to read at home AND each time you place an order, our whole class benefits! When you use our class code, we earn rewards to purchase new books for our classroom library!
So how do you order?
Start by visiting this website: https://www.scholastic.ca/readingclub
Then you just need to follow these few simple steps: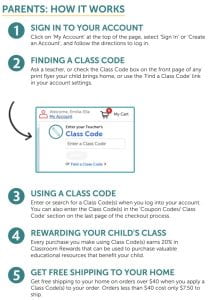 3A CLASS CODE: RC807375                 3B CLASS CODE: RC110679
New books and flyers are added each month! Please feel free to share our class code with any grandparents or relatives who are thinking of purchasing books for your child! I hope you take advantage of this awesome program and help us earn class rewards.
As always, if you have any questions, please reach out!
PS – this is NOT replacing the Scholastic Book Fair. We will still be hosting our in-person Book Fair in December (stay tuned for details)!