Hi Kitah Gimmel Families
We have two exciting things coming up on the OJCS calendar and we want to make sure that you have your calendars marked!
The Scholastic Book Fair!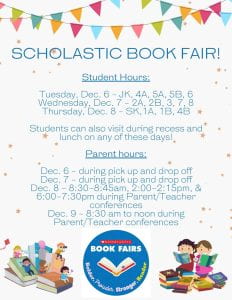 This is a great way to support the OJCS library while also purchasing books for your library at home! We will be visiting as a class on Wednesday, December 7th. However, throughout the week, parents can pop into the book fair before and after school; it opens at 8:30AM and closes at 4:00PM. The book fair will also be open on Thursday night (Dec. 8) during P/T Conferences from 6:00PM-7:30PM and Friday (Dec. 9) during P/T Conferences from 8:30AM-12:00PM. Feel like shopping from home? Use the Virtual Book Fair Link! I will be sending home a flyer today that you can browse with your child in preparation for the Book Fair! We have already started putting together our class wishlist!
Family Chanukah Celebration
On Tuesday, December 20th at 6:30pm, we will gather as a school community to celebrate Chanukah IN PERSON for the first time in years! Come join us for an evening of performances and a sweet Chanukah treat. I will absolutely be there in my favourite Chanukah sweater!
Mark your calendars!
---
Please return any completed Homework BINGO cards from November this week. A new BINGO board will be assigned on Monday next week.