As we wrapped up our Science unit on Soil, we FINALLY had the chance to look at all of the bags of soil that have been arriving in the mail over the last month! It started with a quick tweet & a share on Facebook by one of our Grade 3 parents… and voila! 7 bags of soil from around North America!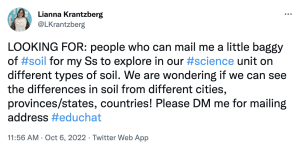 We started the activity by looking up the various places on the map. Two students were in charge of using Google to show the locations on our SMART board and 2 students were in charge of then finding it on our classroom wall map.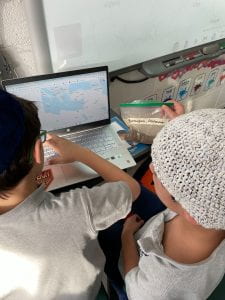 It was great to see the class work together to find the locations and make connections to places they have been!
Then we reviewed the various types of soil that we have been learning about and started passing around the bags! The students were able to touch the soil and look at it through the bag, then they needed to determine which type of soil it was.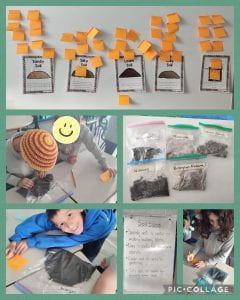 We were so excited to see and feel the very clear differences among all of the different soils!
A VERY BIG THANK YOU to every who mailed us bags of soil! This activity would not have been possible without you!