We have been busy with all kinds of meaningful events and activities during the last week and a half. The Terry Fox Run had us running all around the school field and getting our hearts and muscles pumping. I wish we had a track team at school because we have many fast runners in Grade Three.
Our Sukkah hop had us visiting many stations to learn about Sukkot. We even made edible sukkahs out of pretzels, celery, cucumbers, carrots, and olives. The consensus was that the sukkahs were delicious! The Grade Seven and Eight students were excellent leaders, and we all enjoyed the Sukkah hopping.
Dr. Mitzmacher had us all shaking lulavs and etrogs in the chapel. We were able to answer some questions about the parts of the lulav and etrog. We enjoyed learning how to hold and shake everything properly. It was also lots of fun!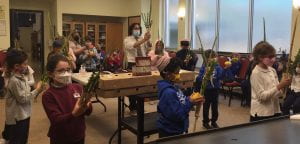 We were lucky to have Noa Daniel visit our classes virtually last week. She read us her new book, Strum and the Wild Turkeys. It is a story about finding your voice and being yourself. She even taught us a song that goes along with the book. We loved spending time with Noa. She even spoke Hebrew to us as well.
Here is the song we learned.
Our session was recorded and will be part of the Digcit Summit in October. The Digcit Summit is a global event that focuses on positive digital citizenship and using technology for good. Last year 48 countries took part in the event. We will be sure to share the link with everyone when it is ready.
Thursday marked the National Day of Truth and Reconciliation. The students learned about the significance of Orange Shirt Day and watched an age-appropriate video that discussed indigenous children and residential schools. A meaningful discussion ensued about children needing to be with their families and be able to learn and celebrate their culture. The students talked about the importance of children needing love, respect, and equitable treatment. They wrote their messages on orange hearts and designed orange shirts. Livia made beautiful orange ribbon pins for all her classmates and teachers to wear as well. It was a moving and significant day.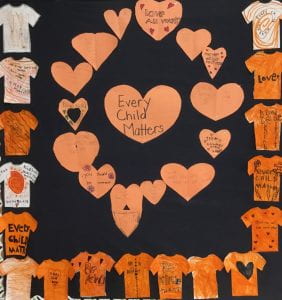 Every child no matter where 
they are from should be 
treated equally, fairly, 
and with respect.  
We are ready for our first whole week of school. I think everyone is ready to settle into a good routine. Homework will begin this week. The children will be so happy as they have been asking to have it. I just hope all the parents will be just as happy.