Good Morning!
This is a friendly reminder that you are invited to our classroom tomorrow (Thursday) morning from 9AM-9:45AM to see the amazing projects that we have been working on!
---
Other Reminders:
– If you have not yet, please sign and return the permission forms for student blogfolios.
– The Grade 8 Students are hosting a student raffle this week! See the posters below for details!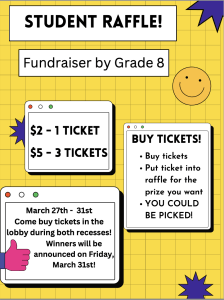 .