Global Maker Day was so much fun yesterday… So we decided to continue it today!
Grade 3 traded in their "Fun Friday" games period this morning to continue working on their marvelous maker day magic! Here are just a few snapshots from the classroom… Morah Lianna's job as photographer was put on hold so she could become the duct-tape cutter.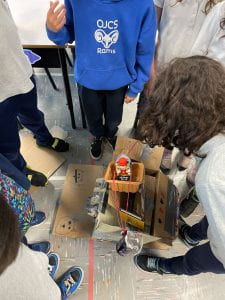 Between all of the making, smiling, and tidying, we were able to reflect on Global Maker Day and the making process.
What was your favourite part of Global Maker Day? My favourite part was..
Ella "…that I could take cardboard boxes and turn it into something else"
Yaara "…we could get creative and build anything that we want AND that everyone made different things. It was fun!"
Ahron "…working together, having fun, colouring, everything!! I just feel happy."
Miko "…when I added a cereal box to our marble run to make it harder so the marble wouldn't always get in."
Jake B "…actually getting the marble in!"
What was the most challenging part? The most challenging part was…
Ollie "…everybody kept knocking over our project because it's big and on the carpet at the front of the room."
Ron "…working in a group and with my team"
Reuven "…when we were struggling to figure out what we were going to do. We tried something, but it was too hard, so we tried something else, and that led us to make something else. So that is what we are doing now."
Raz "…working alone one the second day when both my partners were absent… But then two other friends came to help me and now I have something even better!"
Galit "…figuring out what to build and how to make it."
Abby "…when you would have to cut the boxes and cardboard."
What would you do differently next time?
Jacob H "I would probably look at all of the boxes and other materials I had before getting started"
Solly "I would try to do it with more people instead of mostly by myself."
Kayla "I would use bigger scissors to make it easier for cutting."
Morah Lianna was so impressed with the teamwork, creativity, and clean up crew in this class! This may have been our first time "making" this school year, but it will most definitely not be our last!
---
Kitah Gimmel Parents: Please keep your eyes out for a blog post next week all about launching General Studies homework in Grade 3! Shabbat Shalom!